Psychotherapy and Change: A change is gonna come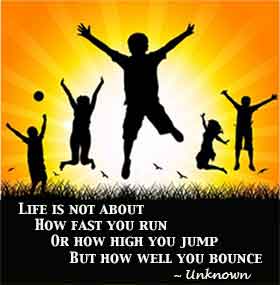 Most people enter therapy seeking change in some area of their lives. We all want things to change for the better. We want pain and difficulty to be eliminated, obliterated, outta here, especially when we've had more than our share for extended periods of time. We may think that the changes we desire in relationships, mental or physical health can't happen soon enough. However, the demand to "fix" things now can create problems of its own. Negative thoughts about lacking willpower, not being serious enough or wanting to fail can have their root in our strong desire mixed with impatience.


When our sense of urgency is intense, it's easy to forget that change is always happening. Change permeates everything, from the laws of physics to the facts of life. The simple reality is that no situation, relationship, behavior or emotion remains static. The kaleidoscopic movement of every part of our lives can work in our favor. We're constantly having new experiences. Different people enter our lives and we learn from them. Even the bodies we live in are constantly changing. An unexpected shift in our circumstances may allow us to see the "same old same old" from a new and different perspective. We may find ourselves ready to take on a problematic trait or behavior that we tolerated or even protected in the past. The objective in therapy, as well as in life, is to increase the likelihood that the changes we make are the ones we actually want.

When sitting in the middle of a frustrating dilemma, we may be prone to feel confused or hopeless, like avoiding the problem is the best we can do. A key part of making change involves remembering and reflecting on what we have already done. We made our way through difficult circumstances in the past. Sure, we made some classic mistakes but we tolerated the stress, often learned from our mess-ups and lived to tell the tale. In these tales we can find what we don't want to do and ideas to reinforce what we do want to do, we may also notice states of mind that helped us persevere.

Sometimes, we want to make a change but seem unable or even unwilling to. Some of us are quick to assume we are consciously blocking positive change due to laziness, stubbornness or obstinacy. Actually fear, anxiety and even difficulty imagining that things can be different are the more likely obstacles. It takes mental and emotional preparation to give ourselves over to an unknown and unfamiliar way of being. Trust in others, the new methods we are trying and especially ourselves, may take time and practice to develop.

Another crucial support needed is compassion. It sounds easy enough, but using it skillfully and lovingly with ourselves (or others) may not be our first response. Society, religions, educational institutions and family experiences can add to the tendency to respond to difficulty, emotional vulnerability and mistakes with reactions that are punitive, blaming or belittling. In response to an embarrassing blunder we may be more likely to think "how stupid" thoughts than supportive thoughts that acknowledge our intention and encourage us to adapt and keep at it.

With the subject of change comes another reality spoken of clearly in the Serenity Prayer, that relating to "things I cannot change". While nothing stays static, some things are not amenable to "fixing", such as the death of a loved one or the loss of a limb. Others are less finite but still involve realities that cannot be wished or strategized away and demand to be dealt with. A major physical or mental condition may not go away but may be handled more successfully with a combination of adaptations, attitudinal shifts and audacious courage that can surprise even its owner. Situations in home life, on the job and among people you know may not be set in stone, but changes in them usually necessitate commitment and action from others as well as yourself. Frustration, bitterness and useless effort may be spent trying to make others do or be as we think they should. Changing the "things we can" often means accepting that others are piloting their ships and figuring out what you need to keep your own on course.

Perhaps the greatest changes we make in life are invisible to the naked eye. Yet we notice when someone we know no longer seems as angry, depressed, critical or morose. We can learn to change focus, put mental distance between aggravating thoughts and situations, both those in life and in our minds. We can develop the ability to give less attention to our complaints and rants about others and give more air time to thoughts and feelings we want to have and actually enjoy. And when learning, focusing or giving more attention is a struggle, we can treat ourselves warmly and with encouragement. Missing the mark is not a mistake. It's an excellent opportunity to practice compassion for ourselves. Each effort we make is gradually changing our outcomes, expectations and even our brains! We may not need every obstacle obliterated to experience change at its most profound and satisfying.